Gas Turbine Inlet Silencers
Gas Turbine Exhaust Inlet System Silencers
Gas Turbine Inlet Plenums

Schock can custom design Inlet ducting and plenums to meet your acoustic and inlet flow requirements. We can design using internal or external insulation.

Discover More

Gas Turbine Inlet Silencer

We will optimize your Inlet silencers to be effective and cost efficient. We primarily use 304 Stainless Steel materials so that corrosion does not become a problem.

Discover More

Gas Turbine Inlet Baffles

Our Inlet silencer panels are hand fabricated out of 304 Stainless Steel. All parts are laser cut for precision.

Discover More

Gas Turbine Inlet Expansion Joint

We hand assemble inlet expansion joint belts in our workshop. We select materials based on design requirement, including temperature while also considering UV protection for outdoor units.

Discover More

Gas Turbine Inlet Trash Screen

We design and fabricate our trash screen's from 304 Stainless Steel laser cut. We also use 304 woven mesh to ensure your turbine intake is protected.

Discover More

Gas Turbine Inlet Ducting

We can utilize interior lined ducting, or exterior insulated and lined ducting. Both system have some advantages/disadvantages. We will custom design an inlet system for your exact needs.

Discover More
GAS TURBINE INLET DUCTING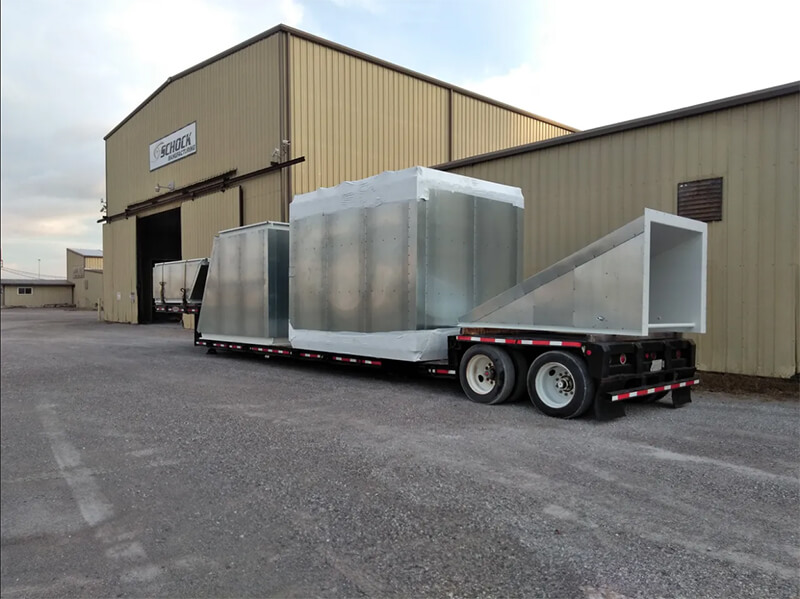 Intake Liner
The intake liner or interior surface that is the air path to the Gas Turbine, needs to be corrosion, debris, & maintenance free. We can select between interior insulated with Stainless Steel liner, or exterior insulated (external casing) and lagged with painted or galvanized products.
Both systems have advantages/disadvantages that our team would like to collaborate with your team to discuss. Schock designs full intake systems to optimize flow to your GT, and be accessible with access doors & platforms, all while being maintenance free for site personnel. We can add site glass viewers & or viewing windows so the air path components can be inspected even during operation.
Let's get started
Let Schock handle the inspection & report now, then we can begin to budget and plan for your upgrade.
Free Inspection